Solatube Skylights - HSE Performance Series
The Right Skylight for Your Needs.
Whether you want the air circulation of our operable skylight, or just the incredible baseline features of our fixed skylight, the HSE Performance Series offers two models created to maximize the Health, Safety and Efficiency of your daylighting. All in a beautiful, sleek design that optimizes the natural light in your home.
New Solar-Powered, Fresh Breeze Skylights
Dramatically change any room with natural light and a fresh breeze. The solar-powered skylight captures the sunlight and uses it to recharge a fully concealed battery and control center. The solar-powered skylight is easily adjusted with a remote. Because it is solar-powered, it qualifies for a Federal Tax Credit on product and installation. Our system has a built-in rain sensor that will shut the skylight automatically in the event that inclement weather begins.
12 Standard and Custom Sizes up to 51.5˝ x 51.5˝
(inside skylight dimension)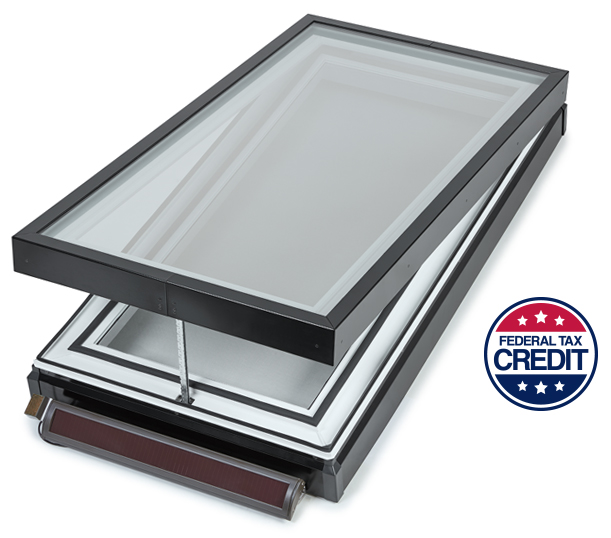 ---
Premium Fixed Skylights
Flat, architectural style and energy-effiecient double panel glass (gas-filled) is much stronger and longer lasting than acrylic, and will not craze or crack. Looks beautiful on the exterior of the home, the sky is much clearer and more beautiful from inside. Better sound absorption (rain, airplanes, etc.) and with the high performance thermal properties – it keeps heat in the winter and blocks heat in the summer.
12 Standard and Custom Sizes up to 51.5˝ x 51.5˝
(inside skylight dimension)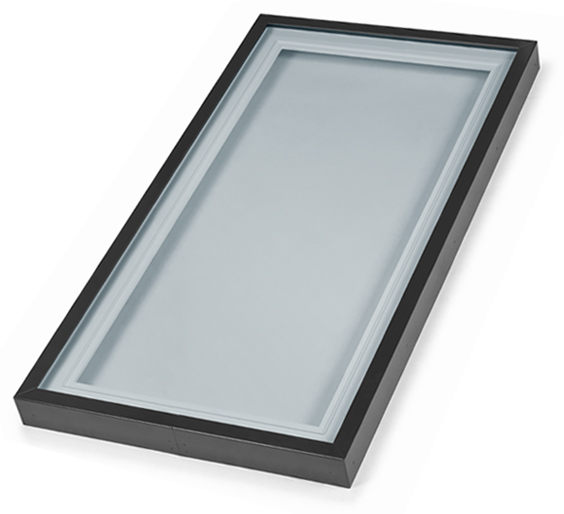 The Perfect Solution for Skylight Replacement.
When it's time to replace your old, cracked, or leaky skylights, the HSE Performance Series provides a notable upgrade. And our nationwide network of Premier Dealers will ensure installation is quick and easy.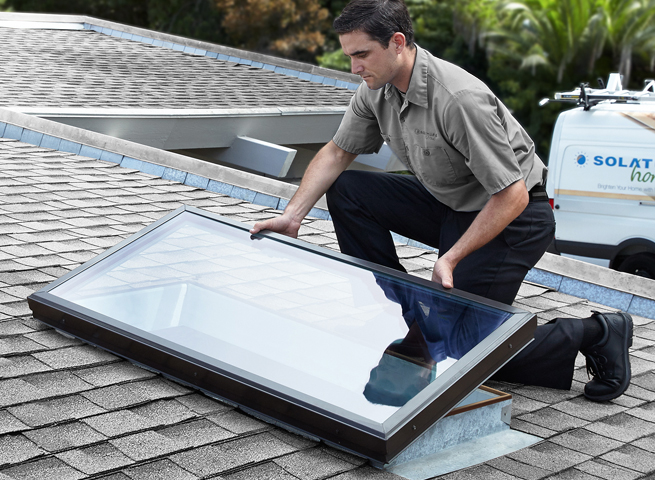 What Does HSE Stand for?

Health
- Natural light and fresh air for healthier living spaces
- Low-E glass for optimal glare reduction
- Engineered for noise reduction

Safety
- Laminated safety glass for impact protection and security
- Blocks 99% of harmful UV rays

Energy Efficiency
- Integrated thermal barriers minimize heat and cold transfer
- Insulated dual pane glass maximizes thermal performance
---
Skylight Technology That's Clearly Superior.
To bring in beautiful natural light while offering energy efficiency, it all starts with the glass. First and foremost, that means a departure from acrylic bubbles that have historically given skylights a bad name. Solatube uses clear glass in its skylights, investing in the best possible insulated glass assembly as the core component of the skylight. And a variety of incredible features just builds from there.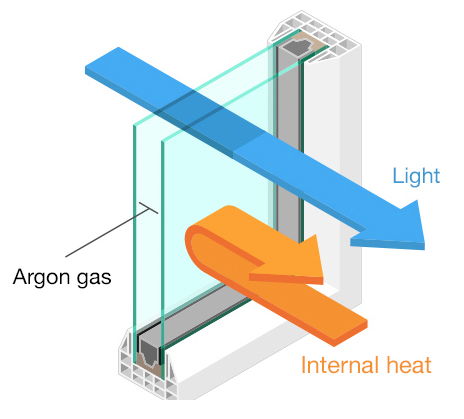 Dual Pane Glass for Performance and Safety
The Solatube HSE Performance Series glass assembly is created with two layers of glass: a Low-E (low-emissivity) tempered glass pane and a laminated safety glass pane, providing impact protection and security.A 14mm insulated spacer creates a cavity filled with Argon gas. This minimizes the amount of infrared and ultraviolet light as well as glare that comes through the skylight. This delivers outstanding thermal and sound performance,a beautiful aesthetic profile and greater durability. The result is an energy-efficient and soundproof barrier to the outdoors for healthier and more comfortable living spaces indoors.
---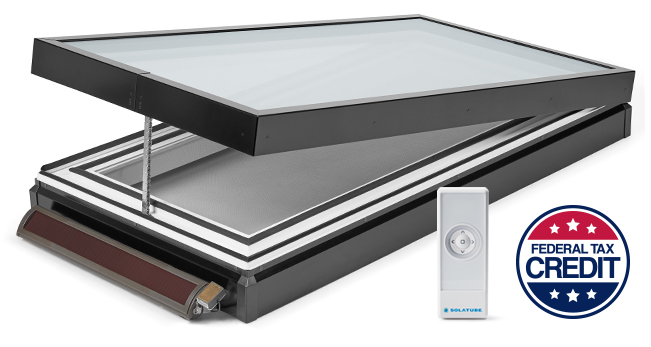 Optional Fresh Breeze Model for Ventilation
With the operable skylight option, homeowners can open and close their skylight to let the heat out and fresh air in whenever they want it. The Fresh Breeze Skylight is powered by a solar-powered motor to maximize energy efficiency and opens and closes with a remote. Its intelligent technologies include a rain sensor that automatically closes the skylight when there's precipitation. And perhaps best of all, the Fresh Breeze model also qualifies for a federal tax credit.
---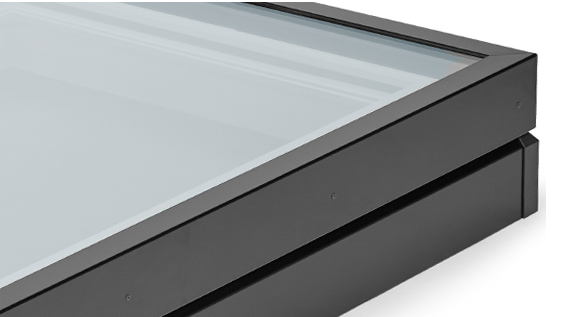 Weatherproof and Corrosion-Resistant
To protect our skylight frames from corrosion and provide a beautiful appearance on your home, we construct them with quality aluminum, then powder coat them to prevent surface corrosion and provide a durable, attractive appearance on the roof. And the frames are designed with optimal dimensions and overlap for easy retrofit and weatherproof protection. Additionally, all fasteners used to build and install the skylights are non-corrosive to withstand the toughest elements.
---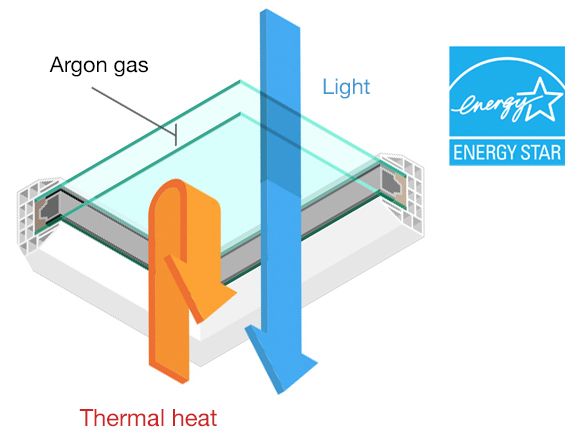 Energy Star Rated
The HSE Performance Series features energy efficient glazing and a PVC thermal break that have earned it an Energy Star Rating. The thermal break, which also functions as a decorative finish to the interior, nearly eliminates the transfer of any heat or cold betweenthe indoor environment and the aluminum frame for even more energy efficiency.
---
How to Get HSE Performance Series Skylights.
Our nationwide network of Premier Dealers will provide expert design consultation and installation to make your skylight replacement quick and easy. And they can provide individual unit sales as well for new construction or retrofits.